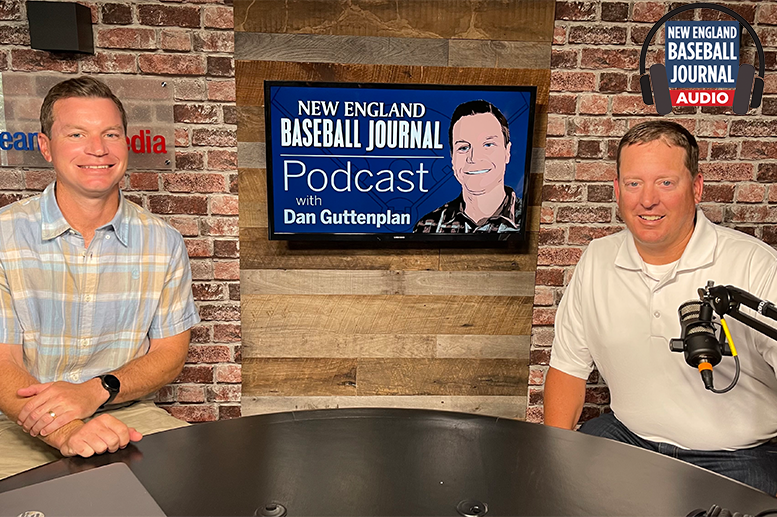 Our latest podcast guest is one of New England's most accomplished MLB scouts. New York Yankees Northeast Area Scout Matt Hyde was named to New England Baseball Journal's list of the 50 Most Influential People in 2019.
Hyde recently helped direct the Summer Rivalry Classic — a showcase event for some of the top high school and college prospects in New England. He worked collaboratively with Red Sox scout Ray Fagnant to assemble the rosters. Hyde also managed the Yankees scout team at Fenway Park. Check out our recap of 10 local prospects who impressed in the Summer Rivalry Classic.
Hyde gives his assessment on the performances of several New England players, including Joel Barlow High (Conn.) right-hander Matt Scott, who got the start on the mound for the Yankees scout team.
"He's a kid that has great ability, obviously," Hyde said. "I've known Matt Scott for a couple of years now. He was on the Underclass Area Code Games team (in 2020), then obviously the East Coast Pro Showcase and Area Code Games this summer. There was that relationship and rapport going into this thing. You see different things in players that make you think, 'Let's see him a little more. Let's see what he's like.' He didn't get a start at the Area Code Games; he came out of the bullpen. I thought it was a really good look even though it was only two innings at the end of the summer. I think you find out by experience. How does that guy prepare? How does he get ready to go about his business? How does he manage the good and the bad as he's going through an outing?"
Scott pitched two scoreless innings — while issuing three walks — for the Yankees scout team in a Game 1 win.
One player who did experience adversity on the mound at Fenway was Phillips Andover left-hander Thomas White, who is considered the No. 1 prospect in the nation in the Class of 2023. He issued six walks in two innings; however, he did allow only one run.
"I talked to Thomas about this afterward," Hyde said. "I thought back to when (recent first-round pick) Jack Leiter was on the younger end of things in this game. He gave up a home run at Yankee Stadium. When guys face adversity in that situation, it's typically the first adversity that they've faced. I thought the great thing about (Thomas') outing was he only gave up one run. He was able to limit the damage of bases-loaded, nobody-out after walking three guys in a row. It's easy for us to spot players when they're successful. We need to see them face adversity because that's where you find out if they can be a professional. There's so much failure that comes in the game. We need to know how they handle that. For Thomas, I thought that was great."
Harvard pitcher Adam Stone may have delivered the most memorable moment of the day when he let out a loud, celebratory scream after ending a scoreless inning of relief for the Yankees with a strikeout. It was quite the visual in a relatively empty stadium for an exhibition game. Hyde loved it.
"It was such a great moment," Hyde said. "I love that raw emotion. It's that team-type atmosphere. 'I just got out of a jam. I'm excited and pumped up.' Our game needs that. At so many showcase venues, it becomes about the individual. It's everything other than getting guys out and competing. What's my velo? What's my spin rate? Whatever it may be. That was a great baseball moment. I felt like Adam would have done that in front of 50,000 people. It fired guys up to some extent, like, 'Hey, this is real.'"
Hyde also reflected on the 2021 MLB Draft, which was historic for New England players. Connecticut high-schooler Frank Mozzicato was selected No. 7 overall by the Kansas City Royals — kicking off a draft in which three New Englanders were selected in the first round. Hyde explained his decision to leave Mozzicato off the Area Code Games roster the previous summer.
"Baseball players have opportunities to make huge strides in one year — more than any other sport," Hyde said. "Frank Mozzicato is an example of that. At the Area Code Games tryout, he was 84 to 86 mph with a good feel for his curve. I wrote down, 'See him at the end of the summer. See if he's made a jump.' He looked a little intriguing. He got COVID at the end of the summer heading into September, so there was no Summer Rivalry Classic (for him). To his credit, he was proactive in staying in touch with the scouting community. 'Hey — This is when I'll make my first start in April.' It worked out that it fell on a Monday, which is usually a lighter day. I went to the first outing, and he was up to 93 mph. He struck out 16 in 5.1 innings. 'OK, now this kid has made a jump.' That's the beauty of baseball."
Listen to the entire pod with Hyde.
You can also listen to each show across a variety of platforms, whether it's Apple Podcasts, Spotify, Stitcher or TuneIn.
Check out the full episode above, and if you're not a subscriber you can check out our plans here.
The New England Baseball Journal Podcast is sponsored by: