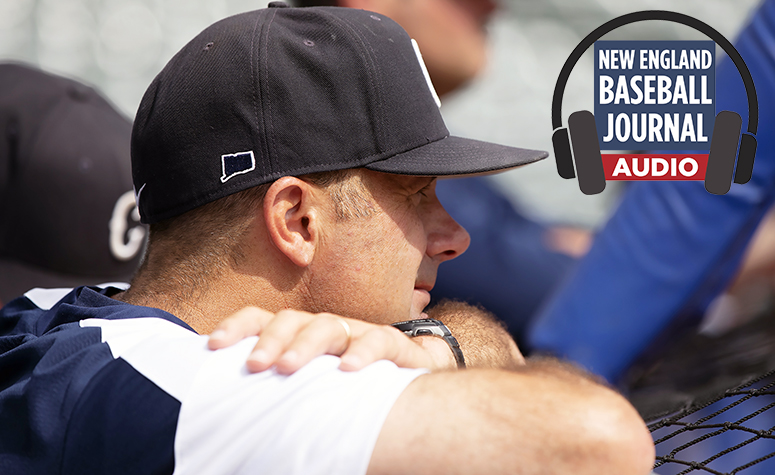 As many New England baseball players make the shift to training in indoor facilities for the winter, it's a bit of an uncertain time for the sport. The 2021 college baseball season could be in jeopardy if virus numbers continue to rise and surpass the numbers that forced the college season to come to a halt last March.
For the latest New England Baseball Journal Podcast, host Dan Guttenplan connects with UConn coach Jim Penders to sort through the state of college baseball during the pandemic. The four-time conference Coach of the Year shares how his team dealt with no less than a dozen positive COVID-19 tests among players this fall.
"We had nine of our nine freshmen contract (COVID-19) within the first couple of weeks on campus," Penders said. "There was a situation with one dorm that was actually quarantined by the state. They happened to be in that dorm. It was running rampant through that dorm.
"Our guys luckily did not suffer any serious symptoms. A couple of guys lost taste or smell for a day or two, but it was never anything beyond that. We had one guy elect to go home and sit out this year. We hope to have him back next year. We had maybe 12 or 13 cases on the roster from summer until now."
The UConn roster is loaded with talent this year thanks — in part — to an influx of in-state talent. Catcher Pat Winkel (Orange, Conn.) is now 12 months removed from Tommy John surgery and expected to return to the lineup in the lead-up to the 2021 MLB Draft. Another pro prospect, Ben Casparius (Westport, Conn.), will be eligible to represent the Huskies after red-shirting last spring due to NCAA transfer rules. Casparius started his college career at the University of North Carolina, and transferred back to his state school in the fall of 2019.
Penders believes Casparius will maximize his MLB Draft value in Storrs.
"When you have 30 big league teams scouting in an area as small as New England, you'd be an idiot not to stay in New England," Penders said. "You want to maximize your exposure. Let's say you're not a first-round pick — and I think Ben could be — but a fifth-round pick could become a third-rounder by staying in New England. A 10th-round pick could become a seventh-rounder. You're going to be seen here, and the exposure is immense.
"Ben Casparius had front office people flying in from all over the country to see consecutive starts at a fall intersquad. When we're playing BC on a Tuesday, we could have 30 radar guns in the stands. Try to find that at in the ACC or SEC. You can't. That has a lot to do with geography. If you want to be as high a pick as possible, come to New England, stay in New England. There are a few schools from this region that are competing nationally, and we happen to be one of them."
The second guest on the pod is MLB liason and Cape League scout Peter Flaherty, who spent the summer as the right-hand man to New York Yankees Northeast regional scout Matt Hyde. Flaherty helped organize the Area Code Games tryouts as well as several workouts for college prospects.
"It's shaping up to be a really special draft class for the Northeast," Flaherty said. "I think it's going to be a trend for the next several years."
Flaherty had a difficult time selecting the top 2021 MLB Draft prospect from New England, when asked to choose between Michigan pitcher Steven Hajjar (North Andover, Mass.), Virginia pitcher Mike Vasil (Wellesley, Mass.), Wake Forest pitcher Ryan Cusick (Sudbury, Mass.) and BC standouts Sal Frelick (Lexington, Mass.) and Cody Morissette (Exeter, Mass.).
"Of those five names, I would say Steven Hajjar or Ryan Cusick," Flaherty said. "Cusick had a really loud summer in the Coastal Plains League. He gained a lot of velocity. Wake Forest has a great pitching lab with Rapsodo and Trackman, as well as slow-motion cameras. It's become a pitching factory. Cusick's been up to 97, 99, touching 100 mph with a quality breaking ball and an offspeed offering.
"Hajjar is a projectable lefty, and should be Michigan's Friday night guy. He was on pace to have a great season last spring, and he was going to play in the Cape League. He's a tall lefty who throws strikes and gets strikeouts. He has a quality pitch mix. It's not a knock on Frelick, Morissette or Vasil. I still think those guys will go in the first three to five rounds."
Flaherty believes as many as four New England players at the high school level could get drafted early enough to warrant signing pro contracts.
"(Dexter School senior) Josh Baez has some of the best raw power I've seen," Flaherty said. "He put on a show this summer at batting practice and had it transfer over to games against the best arms in New England and nationally. (North Attleboro senior) Dennis Colleran soared up draft boards this summer. He wasn't even playing on his travel team's 'A' team two years ago. He gained strength, and got up to 97 mph with a hammer slider and quality change-up. He's a bulldog on the mound who competes with a Northeast tough mentality.
"Jonathan Santucci from Phillips Andover is part of an insane roster. He's a smart kid with a great work ethic on and off the field. All three of those guys value academics, and they could all be high draft picks. (Greenwich High, Conn.) pitcher Miles Langhorne also has a polished, developed arm for his age. You don't see a lot of kids that age that have a slider and curveball that are both quality pitches. He has a full arsenal of pitches."
You can also listen to each show across a variety of platforms, whether it's Apple Podcasts, Spotify, Stitcher or TuneIn.
Check out the full episode above, and if you're not a subscriber you can check out our plans here.